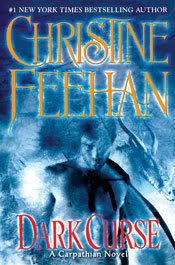 "Born into a world of ice, and slave to her evil father, Lara Calladine knew only paralyzing fear as a child—and escaping with her mysterious gifts unbroken would be the only way to survive her great Carpathian heritage as a Dragonseeker. Human, yet mage, she was of the blood of three species yet belonged to none. She walked her chosen path alone, guided by the wisdom of her aunts—to blend in and let no one know of her ancestry and powers. And never trust anyone. For beyond the frozen hell of her youth was a world of even greater mysteries and dangers."
~from the
Christine Feehan website
The
prologue
is now up on the website.
Wow...this sounds GOOD!
I've been waiting to find out more about the Dragonseekers... actually looking forward to this one.
The h/h are Lara Calladine, a Dragonseeker, and Nicolas De La Cruz.
Should be interesting!
I so hope we get to see more of Dominic, who I find intriguing.
This also gets us closer to Zacarias' book...even though the De La Cruz's have not been my fave characters in the series...I find myself wanting to know more about him. I have yet to read Dark Possesion, but hope to do so before September hits!
btw...what I find even better...another book closer to Skyler & Dimitri's book!! oh, yeah!
What about all you Dark Series fans...are you looking forward to this book?
edit: sorry, guys & dolls...for some reason the pic is not showing up! If you click on the comments, you will be able to see the book cover.